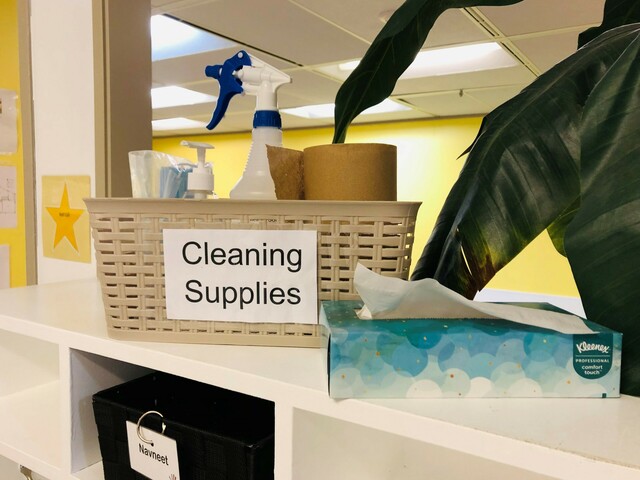 Canada Place Child Care Society's priority is to keep our children, families, and educators safe and healthy during COVID 19 pandemic. As such, we operate to the highest standard of cleaning and sanitization throughout the center and outside play areas. We are strictly adhering to the guidelines set out by Alberta Health Services.
All of our staff have been fully vaccinated and the Vaccination Policy is in place.
Health and Safety Procedures for Parents
Parents are strongly advised to wear masks during drop-off and pick-up.
When exiting the elevator there is a sanitizing pump available prior to entering the center and upon entering the center there are two tables equipped with hand sanitizer for families to use.
A washroom is available near the entrance for washing hands. It is recommended that parents ask their children to sanitize or wash their hands before going to their respective rooms.
When ready, parents will drop off their child by the door of their room. Parents will be given a sanitized Ipad to complete the daily health questionnaire.
Educators will take the temperature of the child and sign them in.
Health and Safety Procedures for Educators
Educators are trained to adhere to the guidelines set by the Alberta Health Services and are continuously being updated as guidelines evolve.
Educators are required to wear masks when entering and leaving the center. Masks are not required when educators are working with children but can be worn if the educator chooses to do so.
Upon entering the center, educators will sanitize or wash their hands, changed to their inside shoes/clothing, and answer the health questionnaire
Two educators are assigned to each group for enhanced ratio, sanitization, and cleaning.
Health and Safety Procedures at the Center
The educators and children strictly follow regular hand washing protocols throughout the day. Each group has been equipped with sanitization material for outdoor play.
Enhanced cleaning and sanitization are done regularly with a high priority on surfaces that are frequently touched such as doorknobs, light switches, table counters, play equipment etc.
Toys are being rotated for morning and afternoon play and being sanitized in between play sessions.
All soft toys that cannot be easily cleaned have been removed indefinitely.
All meals and snacks are individually wrapped and served to eliminate cross-contamination of food items. After usage, all utensils/serving items are immediately placed in a bin for washing and sanitizing.
Indoor and outdoor play spaces are being sanitized in between groups.
Cleaning and sanitization are being recorded for accuracy in each room and throughout the center.
If a child should develop any symptom(s) while at the center, the child will be isolated immediately, and parents will be notified for the child to be picked up right away. Once a child has been sent home with symptoms that are not from a pre-existing illness, they must follow AHS guidelines for mandatory isolation/testing prior to returning to the center.
Non-essential visitors are not permitted within the center at this time.
Please see attached AHS Guidelines, symptoms charts, and handwashing procedure.
The CPCCS team is hard at work, taking every step to keep our center safe for our families and educators.
AHS Guidelines for Daycare and OSC